Boise Blues Society celebrates 25 years of bringing the blues to Boise and Treasure Valley with the release of a new CD compilation, "Blues Gems from the Gem State". The album features 18 tracks, one each by a different Treasure Valley blues band or artist. It's produced by BBS co-founder and KRBX Radio Boise Juke Joint host Norman Davis.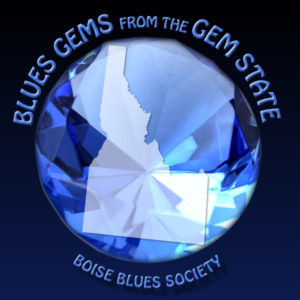 All the artists donated their music to the fundraising project. Proceeds from the album go to support the non-profit work of Boise Blues Society, including its popular Blues in the Schools program, which is offered free-of-charge to area schools to promote and educate about the blues, and youth scholarship program which offers financial support for young musicians to further their music education.
In addition to the 18 tracks by the following artists, there's also a download link for a bonus extended length 19th track of an additional John Nemeth song. The album is available at The Record Exchange and at Boise Blues Society shows and other events ($15).
The bands/artists represented:
Richard Soliz and the Fabulous Blue Rayz
The Blues Directors
Neighbor Dave
John Nemeth
Zack Quintana
Jake Leg
Mississippi Marshall
Pamela DeMarche & Friends
Gary Tackett
Bret Welty
Kings of Swing
Hoochie Coochie Men
Boise's Groove and Jones
Ruberry Jam
The Blues Addicts
Bart Barbour
Bob Kohnke & Butts Giraud
Smooth Avenue