Gary Tackett 's Blue Eyed Sole is his just-released debut album. Although this is the first album under his own name, Gary has been on the music scene both locally and nationally for many years, playing guitar on Merle Haggard's Blue Jungle album, playing with country star Billy Currington on tour and having played at places from the Oakland Coliseum to the Grand Ol' Opry. Blues is Gary's love, though and on Blue Eyed Sole he combines his talent for writing some excellent songs along with a few well-chosen covers.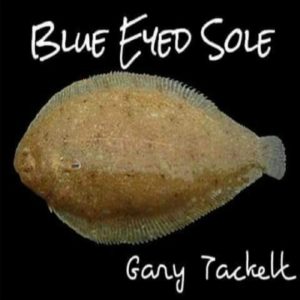 Gary has wanted to do the album for a long time. He told the Boise Beat, "I think the reason anyone puts out a physical copy of their, be it a book, cd, painting, is to chisel it in stone (so to speak). It's permanent. It is legacy. That is why I did it!". Bringing a lot of the energy he shows in his live performances, Blue Eyed Sole provides some well-chosen blues tunes while not ignoring the elements of his Central Valley Sound/Bakersfield roots, pioneered by such greats as Buck Owens and Merle Haggard. Gary grew up in Fresno, California, listening and playing that music with his parents and their friends, while along the way listening to ZZ Top, Joe Walsh, Ry Cooder, Duane Allman and blues greats like Albert Collins. These days, he calls Boise home and loves playing the vsrious venues in the Treasure Valley.
Gary Tackett's Blue Eyed Sole hits you right out of the gate. Over the Side has that traditional blues sound, throwing in a lead that reminds one of Freddie King with its blend of Texas picking combined with Chicago blues. The Bottle Lies shows Gary Tackett's penchant for writing not only good songs but intense lyrics. He said about that song, "The Bottle Lies was written in about 10 minutes. It's not autobiographical, but it could have been. It's my 'This could have been you' song. A tribute to those friends that couldn't climb back over the side. They just jumped".
Down By The River lets loose with his signature blues style, a rockin' blues number that you can't help dancing to. A Little Bit brings a walking blues style and is another toe-tapper. Old Freight Train shows one of the things Gary is famous for, his slide guitar. He is judicious with his slide use, accenting rather than overwhelming with its use. Updating the classic Bobby Troup song Route 66, not only does he rock out with a country beat but puts the slide to good use in a sizzling lead.
Gary Tackett's ode to his country roots is the country-rocker 27 Miles to Bakersfield. This somewhat auto-biographical song tell a great story (who doesn't love a tour bus story?) as we as showcasing how he can move from blues and rock into some amazing country licks. He takes a much different tack on Shaky Ground, where he covers the Temptations/Delbert McClinton tune, showing his love of R&B and remaining true to the funky vibe.
Overall, these and the other songs on the album show why Gary Tackett is one of those musicians who other musicians take notice of. Even the album, recorded in Nashville caught many by surprise, with the studio being used to people showing up with a trailer of equipment and guitars. Gary said, "I didn't even bring a guitar or amp to the studio. I was going to use whatever they had, and go for it. The results were incredible! My tone, my sound came through…". Indeed, the sound, along with Gary's voice that is just gritty enough to really bring the songs to life, shows why Gary Tackett's Blue Eyed Sole is an album worth getting for not only its blues and hard driving songs, but also for one of those rare things in music today—honesty.
Gary Tackett Band's Blue Eyed Sole