This Month's Featured Interview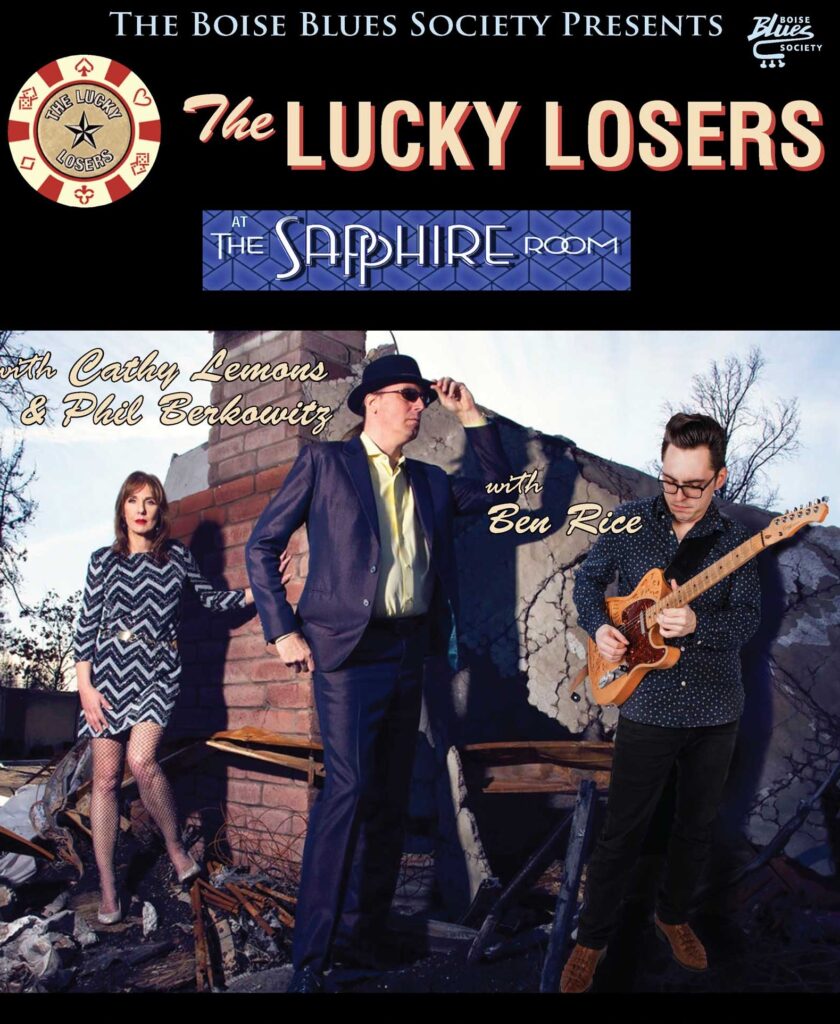 The Lucky Losers with Ben Rice Have Great Show at the Sapphire Room – Great Experience with the Boise Blues Society
By Cathy Lemons of the Lucky Losers
On February 8, 2020, The Lucky Losers with Ben Rice & his great trio were lucky to perform at The Riverside Hotel's Sapphire Room.
From start to finish, the experience was so uplifting. Phil Berkowitz and I, Cathy Lemons, tour regularly all over the U.S, but The Boise Blues Society gets 5 stars for producing this particular event. If every blues society could pull off an event like this, and if we could do it up and down America, "keeping the blues alive" would be an acronym of the past. Touring musicians need work. But we also want to work with promoters that give us the push required to get the word out. BBS had this show sold out 2 weeks in advance of our arrival to a 150 member plus audience.
They created a Facebook event page and a ticket link and had it up 2 months in advance. They created a gorgeous poster, pushed the event on social media, and really just took a hands on approach.
The Riverside Hotel is beautiful,  and the Sapphire Room inside the hotel is a wonderful venue with purple lights, tables (with elegant tablecloths) that circle the stage so the audience can really see the musicians. It also has two dance floors at each side of the stage and GREAT acoustics. And it was a LISTENING AUDIENCE. Everyone that came was there to enjoy live music. You could have heard a pin drop on a slow blues we did called "Tupelo," which is a John Lee Hooker song about a great flood.
We had the pleasure to work with John Rumel and Ken Harris of BBS. We had to drive through a snowstorm and struggle through slippery, icy, snowy roads to get to Boise from Portland. We arrived about 30 minutes late due to traffic.  But as soon as we arrived, things just started to move. Boom boom, boom boom!
We pulled up in our vehicles, loaded in and went through sound check within under an hour. The band was set to go with perfect tech assistance from Rick Connolly. And what a great sound tech he was. All night long, I could hear beautifully from the bandstand and everyone else could too.
I had just enough time, because of their professionalism, to walk over to my hotel room, get my dress and stockings on, fix my hair, and take the elevator down to the green room where we all relaxed for a few moments before the show
I want to thank BBS Event Coordinator, John Rumel, for doing such a great job. John was very hands on and catered to our every need. He had the schedule down pat, he told us where to stand before getting on stage, he explained the breaks, had the drink tickets, meal tickets, and pay all in his coat pocket.
To me as a performer, what I am looking for is a real audience that has an intelligent grasp of what you are after, musically speaking.  The Boise audience was highly educated in the blues — a cultured audience. I have to assume that the DJs in the area (and the BBS itself) are responsible for some of that culture. The veteran DJ Norman Davis of KRBX, Radio Boise – 89.9/93.5 FM, John Jones who has followed me since 2000 release of "Dark Road," and of course KRBX's own Ken Harris, who is also a BBS Vice-President and Events Coordinator, were all at the show.
Ken had Ben Rice on his radio show and then, on February 3rd, had The Lucky Losers on his Monday night show. You see, that's how it's done. You have some live radio interviews leading up to the show and all of that builds the public's interest.
We were all so impressed with The Boise Blues Society! Hats off gentlemen! And don't let me forget to thank the lovely woman, Barbara Diamond, who managed the merchandise table for us! What a great time and a great team.