This Month's Featured Interview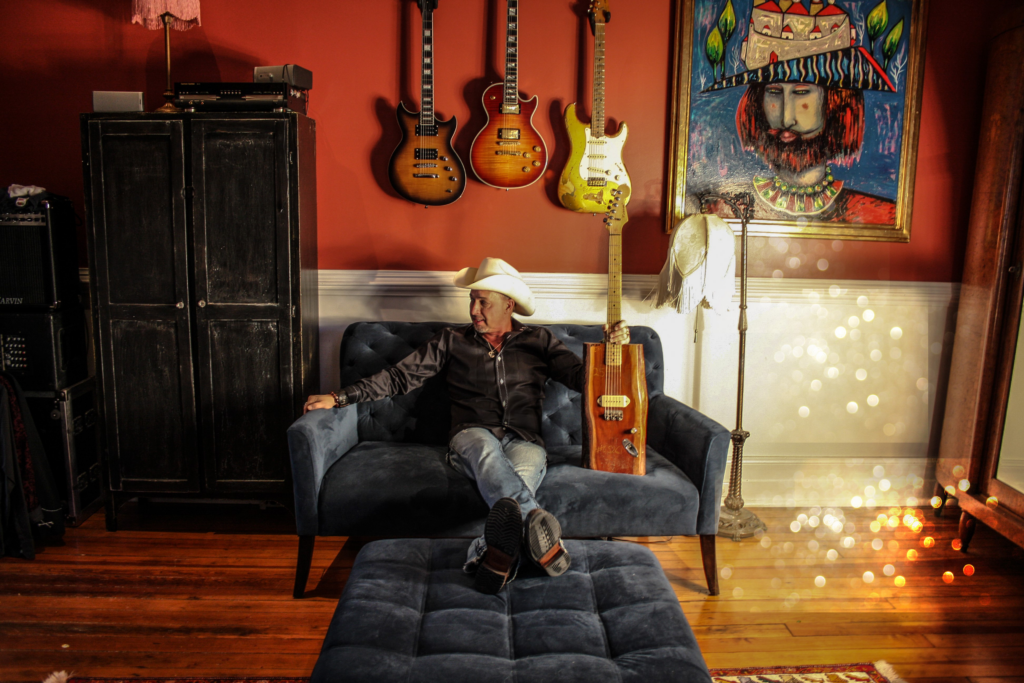 Local Artist Spotlight: Tim "Too Slim" Langford. Idaho's Own, World-Renowned Blues Artist
Tim "Too Slim" Langford  (TS) – is the Guitarist, and front man for Too Slim & The Taildraggers, a long standing Blues Rock power trio that have been on the road for 35 years and have 24 albums over that time. Too Slim is from Nashville, where the Taildaggers are located and now lives in Eagle
Tim Childs (Boise Blues Society): So, Too Slim, I've been listening to your latest Too Slim & The Taildraggers release – "Live at the Domino Room " CD you put out as a limited release this February, and "The Remedy" that you released last July. I have to say, "Live at The Domino Room" is one of the best you've done – in my humble opinion. I've known you a long time now, and this (recorded in 2003) live one brings back the sound you had when I first ran into you in 1990. It's all about that great power trio you started with and really still do today, but with different members now.  So, how's it going right now?
Too Slim: It completely sucks (laughs), but that's the way I feel about it. Worst year ever!
TC: Yeah, I bet, and you probably have a lot of your national act friends that you tour with and around that feel the same way?
TS: Absolutely, yeah, everybody you know feels the sting. The music business – not only musicians, but production people, recording industry, theatres, clubs, all of it – just like the restaurant industry are in a tough spot. A really tough place. We'll see what shakes out?
TC: You've been going back and forth from here to Nashville since the start of all this. You've done some studio time, and a couple live streams from your bass player Zach's "Wild Feather Recording studio"- , including remixing the Domino Room from your years of live recording that are in the "vault" – so to speak. And when you get back on the road, you're getting ready to support "The Remedy" which came out last July, right? And that's doing pretty well despite the pandemic, right?
TS: Yeah, we were going to bring it out in late April of last year, but postponed it to July because everyone thought we would get out there touring in the late summer. But it never happened. Like a row of dominoes, everything kept cancelling. I don't think we or anybody really knew how it was going to go or what to expect. You wouldn't get a notification until 2 weeks before the festival, or "gig" that it was cancelled. We had a great 2020 tour season lined up, but, boom boom boom, they all went away.
TC: So now you're looking at the end of July his summer to get going again with the Taildraggers, to support the Remedy?
TS: Yeah, as of right now…
TC: So I've been following the progress on the Remedy a bit. It looks like it's been recently nominated for best Blues Rock Album?
TS: Yes, it got nominated by the Independent Music Awards, and best Blues Rock band, the voting for it starts, now, in May.
TC: Well that's great!
TS: It is, but it's disappointing that we weren't able to get out to support it touring last year.
TC: Do you think it would have done better, that is, if you had been able to have a normal tour schedule to support it?
TS: Yes, see, it's not going to be "new" this summer. When you release an album, you have to have all your ducks in a row. For maximum exposure, and everything. This is the first year in 35 years that we've not been able to tour, go out on the road.
TC: Yeah, pretty challenging isn't it?
TS: Yeah, and I didn't really know how to deal with it. No one really has, I don't think, to tell you the truth. I had to get an SBA loan to make it through the year.
TC: Right, and I'm sure many others like you that you know are in the same boat.
TS: For sure.
TC: So segueing into the local scene: You and your wife moved here from Nashville a few years ago?
TS: Yes, to Eagle in May of 2017.
TC: I got here a year later and we met up again that fall after you finished touring, supporting "High Desert Heat", and started up the Blues Saviors. So, The BBS has supported us – we've had something like 12 or 14 gigs locally with them as co-sponsors. The Sapphire room, the Sandbar and what do you think about the local music scene here, after being on the road for so many years, what's your perspective on that? I mean, you have a different "take" on it due to your national group, us and your single act show you do?
TS: I was really surprised at how much music there is here. You know, coming from Nashville and Seattle before that, it seems pretty healthy here with the venues, the support of it and all the types of music here. I wasn't really getting out much at first. I was on the road all the time, then we met up and got the Blues Saviors going, and that made me see how the local scene really worked. It was surprising.
TC: I was surprised too when I got here. Really surprised. If I recall the amount of BBS supported Blues Bands when I first got introduced to the jams here, there were something like 35 bands, I think. That's a lot of bands for a region this size. That was before Covid hit though. Not sure what the count is now, but we're looking into it.
TS: Wow, I didn't know that!
TC: We've been playing out some with the Blues Saviors, with our recent show at the Sapphire room which the BBS sponsored, and it went over pretty well despite the half capacity challenge. It's going to be like this for a little while longer. What would you like to see with the BBS support – we're going to turn the corner eventually – so what do you think about that?
TS: I think it's always good to see the Blues Society involved with the local scene. I think the Blues Society here is pretty healthy. I see a lot of Blues Societies nationally. I know it takes a lot of volunteer work and participation by the board members. The BBS seems to have a well organized group here.
TC: You know just about all of the board members. Most are in bands, we are pretty active that way.
TS: Yeah, that's the great part about it here! Most of the other societies I've been around or I'm involved with aren't like that, exactly. You know, back 20 years ago, most of the Blues Societies sponsored traveling bands. They'd sponsor a show and or help you find a venue to do a show. It was great for road bands. Then, the focus changed. It changed to sending a band to the Blues Foundation Blues Challenge. You know, the band competition thing. Send someone to Memphis, type thing.. Personally, to me, if someone or a band wants to go to Memphis, I felt it was on them to do that. I feel like the Blues Societies don't focus on Traveling bands, like they had before. You can edit this out if you want, but I'm old school and feel pretty strongly about that focus change. (Laughs) – I might come off as an a – hole about that, with my opinion on that, but…
TC: No, I think it's healthy to talk about it.  We, and I'm part of the board when I say this, I feel from my time in playing out here, that the BBS is not like the "other" Blues Societies we both worked with and know. Yes, the focus has changed over the last 25 years, but now the game has changed again, especially with covid.
TS: Well yes, that's one of the things about the Boise Blues Society that is a positive thing. They DO help bands locally and nationally to perform here. From sponsoring the Taildraggers, to us, to a lot of other people like Tommy (Castro) to Tinsley (Ellis) and you guys, and all the local bands too  – the focus has not been so much on the International blues challenge. I'm not saying it's bad to do that, to get sponsored to get down to Memphis. But to spend the entire year focusing on that only is not, in my opinion, the best use of a society's time frankly. I've never looked at the "battle of the bands" or the "competition" of bands as a positive thing. Music isn't a competition to me, it's a bad way to look at it.
TC: I don't see it like we do that here. We have a great group in the board that is very active locally – from playing out to understanding how hard it is to be out there working like you do nationally. I mean, you've known Ken Harris for years now.  Look how long he's been involved locally from the Bouquet days to the Hoochie Coochie Men for example?
TS: Yes, that's what I mean, and that is not what it's like out there right now. Some of the other Blues societies are close to the way the BBS is, but not quite as deep, or involved in the scene as it is here. And it's noticeable from where I sit… I hope the covid thing will pass and we can get back to some sense of normal. Live shows and the like..  I know I come from an "old School" view. My focus as a musician when I was younger was to have a great band, make it a business, travel and make a living doing it right? So there's a handful of bands that still do that, right? To keep that thing going is a real challenge.
TC: So interestingly we – the BBS – are having a lively discussion on what makes a good band locally. And, what makes a good blues band, period. They are related. We are looking at it from the historical perspective of where the music came from to where it is commercially now. You have a unique perspective on this as a national player. A lot of the guitar player's now are "Blues Rock". Would you agree with that  – what do you think is going on out there now with your travels?
TS: I never really like labels either. I feel like, you know, well, let's say it like this… When I was growing up I didn't try and categorise a band because they were a rock blues band, or a jazz blues or straight blues band. (laughing) I think people identify with a band because of their uniqueness, or their personality. You either liked them or you didn't. But then, more or less in the '90's, bands started to get sub-categorized. Divide them into genres – you know, don't dare cross that threshold of that genre. Think about it. If you were playing Blues in the 60's – many of the "legends" were playing Blues Rock. So take someone like Eric Clapton, who's considered a blues icon, or even Buddy Guy, they took the blues in a different direction from those they were mentored by. It was applauded then. Later on, and I hate to say it, but there was a certain level of Blues snobbery that went on out there. I heard it first hand at times. I mean I was told that "you're not Bluesy enough" .. you know what my opinion of that is – F- that!! And I can say that Eric or Buddy do not like getting pigeonholed on what they do either.
TC: Here's an interesting question for you: You were a close friend of Little Charlie – who we lost last year. ….
TS: Yeah, we did lots of shows together and we played on each other's albums here and there over the years.
TC:  He was one of my main mentors as was Duke Robillard, Ronne Earl, Jimmy Vaughan and Stevie of course, as was Hollywood Fats, Junior Watson, Alex Shultz, I mean all these Jump Blues and West Coast blues guys. I came out of Boston as you know and we had Duke & Ronnie, then the Nighthawks with Jimmy Thackery on guitar then. Then I hit Chicago and heard about Albert Collins, the three Kings then the west coast guys like I mentioned and then The Paladins, Kid Ramos, the Blasters, you. et al. They all catered to their mentors, but they also had their "own way" and I heard about Little Charlie. Someone named his style as the "West Coast Blues style", who's the "link" in your mind to the jump style that Charlie, Fats, Junior play?
TS: It's T-Bone Walker, even BB with that big band swing that came out if pre- rock and roll. And I mean Chuck Berry style. But remember, we also had Robert Cray and i'd say Albert Collins really impacted him. But then you had the T-Birds and Stevie Ray and before that you had Billy Gibbons and the early ZZ Top way of going about it. So many others to name here… They have all taken it to a different level. Think about what Stevie did. He busted on to the scene in '84 and changed the whole game. It was cool! He really gave the blues a shot in the arm. He was completely rock – with a huge dose of Jimi Hendrix.
TC: Yeah I remember it like it was yesterday. He linked Jimi back to the blues scene, which was what I saw at the time.
TS: Yeah Robert Cray told me when he was playing in Spokane back in the early 80's at Washboard Willies that wait until you see Stevie – you think Jimmy's good, wait until you hear his little brother. He's going to blow the roof off the place! And man did he!!
TC: There's a lot of great young players out there. Who's on your list that you've run into that we need to be trying to get here?
TS: Marcus King. Albert Castilla, Albert Cummings, Jon Nemeth of course. King Fish is good. Samantha Fish. The Trucks Tedeschi band, Walter Trout if he comes through. I've known Jon for a long time. He used to open up for the Taildraggers. That band was Fat Jon and the Three Slims. (laughs) Now look at him. Big star and doing well.
TC: I remember that! You must have been based in Spokane still? (I should mention – Too Slim is originally from there)
TS: Yeah, I have a lot of family there and I need to get back there some more. You know, with covid and an elderly parent still alive, I got to make some time to see everyone when I can.
Tim "Too Slim" Langford website: tooslim.net
Youtube link: Winthrop R&B presents Too Slim & The Taildraggers
Facebook: Too Slim and the Taildraggers – facebook.com